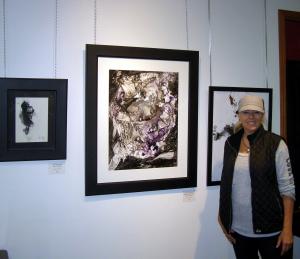 You know when you think perhaps its best not to participate in a planned event and then the universe is just darn determined you're doing it no matter what? That's how I felt a month or so before my Classic Theatre Solo show. I really didn't know if I could swing it for so many reasons...and then,almost like magic, I was at the Classic, putting up my show. As I looked at my presentation, all framed and lit up, so beautifully done thanks to wonderful friends,my framer, as well as Classic Theatre volunteers, I was amazed and really excited. This was going to be great after all.
One of the volunteers who helped hang happened to be our Poet Lauriette Margaret Margetson, and to top it off, she became inspired by my work----in a way that I could never have imagined: 6 poems in total were eloquently scribed from my creations--priceless. The morning of my reception, I called Margaret to ask if I could share a couple of her poems as I planned to present and speak of my work, the way I always do at my shows. She then announced to me, in her musical way, that she had awoke that very morning with another writing entittled "FOR ANNE-DENISE" -- this piece I asked Margaret to recite, herself, at my reception. I felt her poem was a blessing on my show. I'll post the poems on my next blog...accompanied by photos of my show.
Suffice it to say, I'm thrilled with my show. I have 7 sales to date and a great feeling that the next two weeks (show is until end of October) will bring much more...
Enjoy the article below, which the local newspaper so graciously wrote about my show. In this article you'll find out why I named the show: MAGIC EYE RENDITIONS ==accompanying photo included:
An artist's insight through Magic Eye
Diane Johnston
Speaker Reporter
COBALT – A play on her own name is behind the title of the exhibition by New Liskeard artist Anne-Denise Mejaki.
"Magic Eye Renditions" was inspired by someone who believed her surname was spelled "magic eye," said the artist earlier this week.
"That was brought to my attention and we had a chuckle about it," she said.
But the spelling misunderstanding fits, she said.
"My art allows my heart to joyfully sing and like a conduit, I spill onto my canvas, sharing the energy with nature, people, surroundings and the universe," she writes in the artist's statement accompanying her show.
"That is how I create my best and most original artwork…by being aware, open and receptive to creation through my magic-eye."
ON DISPLAY
The show, which is now on display at the Cobalt Classic Theatre's mezzanine gallery, features 32 pieces completed over the last two years. She also plans to add half a dozen mini reproductions.
There are works in watercolour and acrylic, but most are in her preferred medium of ink washes.
There's "not a lot of realism" in her latest works, Ms. Mejaki said, but they "truly represent me being true to myself as an artist."
Several paintings have inspired Anne Margetson, Cobalt's poet laureate and assistant to gallery curator Cal Knight, to new works in words of her own.
Ms. Mejaki's passion for art began in childhood.
She studied oil painting with Cobalt's Caroline McArthur for ten years and also undertook advanced studies in watercolour and etching.
But she gave up painting in her early 20s, focusing instead on music and raising her family.
In recent years, she has returned to expressing her creativity on the canvas, and in 2006 founded Art About Your Productions.
She has worked largely on commissioned pieces, particularly portraits. She has also launched series of works under broad themes inspired by nature, friendship, kindness, love, and aboriginal culture.
FULL-TIME EMPLOYMENT
She left full-time employment later that year with plans to focus on art.
Reflecting on that first year as a full-time artist, she said she realized she had surpassed the expectations she had for that period.
"Everything has its time," she said.
Over the past three years, her work has won a number of awards at regional art competitions.
Just three weeks ago, she was in Toronto at a busker's festival, where she spent three 12-hour-plus days creating art on the street under the eye of passersby.
It has taken this long, she said, to gain the "absolute confidence" required for such on-street art.
"Now it happens quite naturally," she said, adding she'll return to the busker's fest next year for four days.
She also continues to evaluate new art-related opportunities by asking, "Is this good for me?"
Her show, Magic Eye Renditions, runs until the end of October. A reception will be held October 2 from 1 p.m. to 4 p.m.
The public can view the show on days when the Classic is booked for performances and on Mondays and Thursdays, from 4:30 p.m. to 6:30 p.m.
At other times, Ms. Mejaki is available to take visitors through the show. For information, contact her at 647-6092.